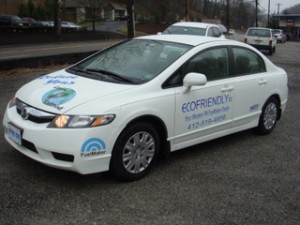 Eco friendly LLC has been the  Pennsylvania BRC Fuelmaker dealer since 2008 and now distributor.We are located in Gibsonia Pennsylvania. We sell, install, and service all Fuelmaker products. We are specialists in fueling with CNG.  If your need is a small compressor for fueling one Honda Civic, or a fleet of trucks using stored fuel with fast fill, we can get you started using CNG – and saving you a lot of money.   We have certified and registered electricians and natural gas plumbers to handle all your fueling needs. We own and drive a natural gas auto -2009 Honda Civic GX – It is available for test drives.
The current cost to fill the Honda Civic at the owners home is $0.75 per gallon.
The Honda Civic is exempt from Pennsylvania Emissions testing – It is ultra clean!
                       This is great for our Children and Grandchildren!
                                           This is great for America!